"Drake & Josh, there are many people who would tell you it's my funniest show. " - Dan Schneider about the show.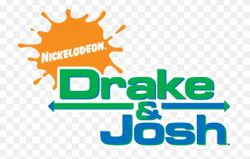 Drake & Josh is an American situation comedy created by Dan Schneider.
Storyline
Edit
Drake & Josh follows the lives of two very different teenagers who become stepbrothers and best friends.
Drake Bell as Drake Parker
Josh Peck as Josh Nichols
Miranda Cosgrove as Megan Parker
Nancy Sullivan as Audrey Parker-Nichols
Jonathan Goldstein as Walter Nichols
Recurring
Edit
Scott Halberstadt as Eric Blonowitz
Alec Medlock as Craig Ramirez
Allison Scagilotti as Mindy Crenshaw
Yvette Nicole Brown as Helen Dubois
Jerry Trainor as Steven "Crazy Steve" Upshaw
Jake Farrow as Gavin Mitchell
Julia Duffy as Alice (previously Linda) Hayfer
Roark Critchlow as Dr. Jeff Glazer
Cathy Shim as Leah
Brittany Curan as Carly
Gabrielle Christian as Lucy
Josh Sussman as Clayton
Jasmine McNeil as Janie
Toshi Toda as Karate Instructor
Johnny Lewis as Scottie
Molly Orr as Rina
Jeremy Ray Valdez as Paul
Episodes
Edit
Click here for a list of episodes.
What's your favorite season of Drake & Josh?
What's your favorite Drake & Josh special?